Hongkong Storage has been serving Hong Kong over a quarter of a century with the tenet of "Customer First" and "Treating Customers as if They Were Your Own" to provide customers with quality mini-storage services. We are grateful to our customers for their "Trust" in us over the years, storing their precious belongings in the Hongkong Storage, the "Trust" for us is a mission, throughout 26 years of the ups and downs with customer, we always put customers first. As far back as 2018, when typhoon Mangkhut struck Hong Kong, and as close as Super Typhoon Saola, and the extreme black rainstorm in 500 years, causing devastating damage to Hong Kong and billions of dollars in economic and property losses. Even though we can't control the natural disasters, because of this "trust" from our customers, we still stand firm at our posts under the storms and do our best to protect our clients' properties.
Taking Super Typhoon Saola as an example, when the Hong Kong Observatory predicted that Saola would approach and pose a threat of the century to Hong Kong, the Hongkong Storage immediately activated the Emergency Response Team (ERT) to cope with the onset of the storm. The work of the Emergency Response Team includes:
Monitor typhoon movements and forecasts, and prepare for the storm in advance.
Check and ensure the safety of mini-storage facilities, including walls, doors and windows.
Activate the Emergency Response Team formed by all relevant departments of the company to co-ordinate all aspects of operation during the storm.
Customer Service Emergency Hotline activated to maintain communication with customers
Short messages were sent to customers to keep them informed of work progress.
Inspection of branch facilities immediately after the Typhoon Signal No. 8 was lowered.
If it is confirmed that the branch is not affected, the Customer Service Department will immediately notify the customer via SMS.
In the event of a suspected incident, the Customer Service Department will notify the customer immediately and provide all assistance.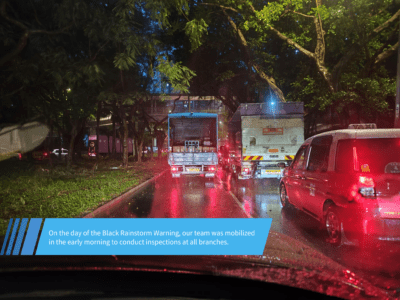 We understand the concerns and worries of our customers about their properties in the face of a fierce storm, so as soon as we confirmed that our customers' mini-storage units were not affected, we quickly sent SMS messages to our customers to report their safety, to put their minds at ease. At the same time, for the few customers who are affected by the storm, we immediately contacted them to provide all the assistance and resolve any issues. We appreciate for our customers' support, understanding and trust, which have allowed us to successfully overcome these challenges.
We are great pride in our team at Hongkong Storage, who consistently serve our customers with unwavering dedication, professionalism and perseverance.